Welcome to Give Me Shelter Cat Rescue

Cat of the Week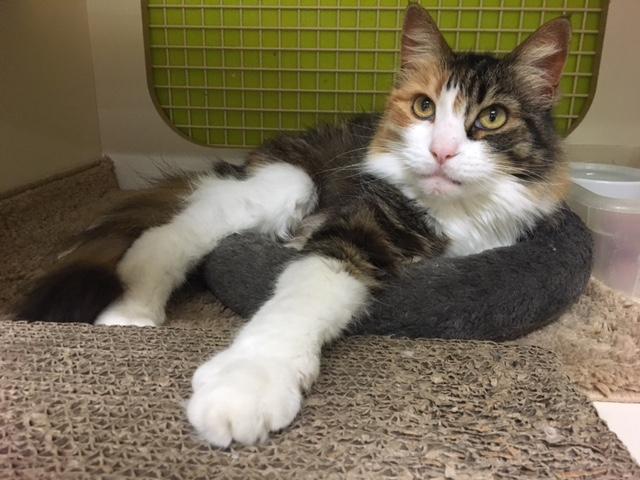 Sputnik
Current News and Events
The Power of ONE - One by one, we can raise 20k.
Oh what the years bring! Did you know we nearly doubled our adoptions in 2015? And we are on track to save even more lives in 2016 — and it's all because of people like YOU.
It only takes ONE — ONE act of compassion, ONE share on social media share, ONE donation to give a second chance at life to many.
Give Me Shelter (GMS) needs your help. Each day we are faced with cats that have only 72 hours or less for rescue. We save the most vulnerable: special needs, adult and senior cats. This is all done with love and commitment by our volunteer team.
To tell you about our work, meet Bella…
I'm Bella, and I was 6 years old when I was rescued by Give Me Shelter Cat Rescue (GMS). I am one lucky feline! I'm telling you my story to help raise funds so GMS can save other cats like me.
My guardian became homeless and surrendered me to the city shelter. I was pretty distraught by all of this—losing my home and guardian. The worst of it was that I was deemed unadoptable due to resolvable medical issues. It seemed my fate was sealed until a GMS volunteer scooped me up and placed me in a foster-to-adopt home. This was my miracle! It was then discovered that I had a bladder stone and a fractured tooth. I was taken to the GMS veterinarian, who performed surgery to resolve these issues. Fortunately, my foster guardians and I fell in love, and they made me their forever kitty! I have a wonderful life now where I am safe and loved. Without GMS I would have become another statistic for cats destroyed at the shelter. Your donation helps GMS to save so many more like me and provide us with loving homes. Please donate to help save other cats like me.
___________________________________________________________
Our Goal
Give Me Shelter's continuing mission is to save lives that fail the shelter's archaic behavior assessments and medical standards. Time and time again, with medical and behavior intervention, we find permanent loving homes for cats in need. Without your continued financial support we could not provide this much needed life-saving effort. Bella's story illustrates the tireless effort and service that GMS provides. We are committed to saving as many lives as possible.
We are at a critical time — kitten season is in full force, which means many adults and senior cats are overlooked. Without GMS and your help, these cats WILL perish.
In 2015, GMS spent over $80,000 in veterinary costs alone. In order to continue to save lives, our goal is to raise $20,000 or more. Every donation — large or small — directly benefits the lives of these castaway cats, so please open your heart and donate to aid in our effort to save lives like Bella's. We are a 501c3 non-profit, so your donation is tax deductible.
These are a few of the kitties who need your immediate help:
Sweet Sam(3 years) was hit by car, had one rear leg amputated, doesn't have use of the other leg and is incontinent. We have reached out to the best sanctuary in the area, which will require substantial donation for his lifetime care where his special needs can be met and he will thrive. Up to $2,000
Lovely June (5 years) has painful stomatitis and requires a full mouth extraction to relieve the pain. Could June be her lucky month? $1,200-1,600
Beautiful Boo (10 years) has been losing weight and is not interested in eating. She needs blood work to determine the cause and best course of treatment. $300
We believe #EveryLifeMatters and there IS a home for every cat. Read more heartwarming stories about Billy and Tigger and how GMS helped them.
Donate at youcaring.com/powerofone. Follow our #PowerofOne Fundraiser on Facebook and Instagram for updates.

You can also mail your donation:
Give Me Shelter Cat Rescue
P.O. Box 411013
San Francisco, CA 94141
Or donate on our website.
__________________________________________________________________________________
Thank you to Youcaring.com for putting together a wonderful video to help us raise funds for our beautiful girl Leila and sharing the work that we do at Give Me Shelter Cat Rescue. Watch the video on their Facebook page.
We are saddened to tell you Leila has since passed. Please read our tribute to her life here on our Facebook page. Unfortunately, we were not able to save Leila, but she was loved in her fospice home until she crossed the Rainbow Bridge. While Leila is no longer with us we save many precious lives. Please help us continue to save lives and contribute to their care. Thank you for your continued support!
See what Give Me Shelter Cat Rescue has been up to in our Summer 2016 newsletter!

| | | |
| --- | --- | --- |
| | GMS is proud to be a supporter and participant in the Maddie's Fund Treatable Assistance Program. To find out more, please click on the Maddie's Fund Logo to the left. | |
Donate
All donations are tax-deductible under section 501(c)(3) of the Internal Revenue Code (EIN 20-1685522), and receipts are available upon request.
Adoption
Events
EVERY SATURDAY AND SUNDAY
FROM 12-4PM
PETCO, SLOAT BLVD
PETCO, POTRERO CENTER