How to Help
You can help by volunteering your time, donating items from our wish list, or simply donating money!
Volunteering

Do you love animals? Do you love the feeling of satisfaction that comes with saving the life of an abandoned animal? Do you find yourself asking How can I make a difference? Well look no further!
As San Francisco's largest cat rescue organization, Give Me Shelter is always striving to expand its reach and success in rescuing as many cats as possible from death row. In order to do this, we need cat-savvy, fun-loving, high-energy people like you to volunteer! The work is fun and the rewards are tremendous!
Fill out our Volunteer Application or Foster Application to tell us about yourself.
Adoption and Volunteer Locations
Petco, 1591 Sloat Blvd, San Francisco, CA 94132 [map]
Petco, 2300 16th St, San Francisco, CA 94103 [map]
Feline Caretaker Responsibilities
Clean up to 8 cages
Interact and play with 3-10 cats outside of their cages
Interact with the public and answer questions
Must be familiar with cats and be comfortable handling them
Must possess good communication skills
Must find a substitute GMS volunteer if unable to fulfill a scheduled task
Time Commitment
At least one shift per month - Shifts can vary from 30 minutes to 5 hours depending on the number of cats
Other Opportunities
Administrative help with our database, mailings etc.
Help with planning & promoting fundraising events.
Long term/short term fostering. Our save rate highly depends on how many foster homes we have. More fosters = more lives saved.
Donate Items from our Wish List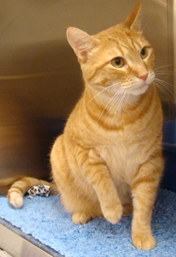 Donate an item from our wish list:
Cat beds
Canned cat and kitten food (Fancy Feast)
Cat Carriers
New Scratching posts
New Cat toys
Donate
All donations are tax-deductible under section 501(c)(3) of the Internal Revenue Code (EIN 20-1685522), and receipts are available upon request.
Adoption
Events
EVERY SATURDAY AND SUNDAY
FROM 12-4PM
PETCO, SLOAT BLVD
PETCO, POTRERO CENTER