Oscar is not ready for adoption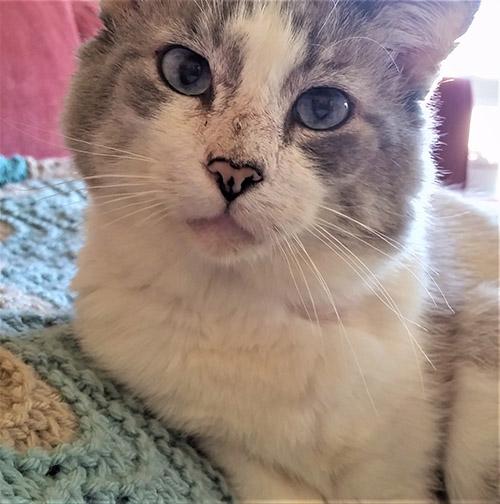 Male
Siamese Mix
American Bobtail Mix
6 years old
Hello! My name is Oscar! I am living in a foster home because I am FIV+ and can be very bossy with other cats (I would prefer to most of the attention and food to myself, thank you). Aside from FIV, I am a healthy and happy cat (I just had some dental work done) that would like to find a loving human to grow old with. My foster parents think that I am mix between a domestic American Bobtail and Siamese, because my tail is only about half length, I have clear blue eyes, and my fur has seal-and-blue color tones across my back and flanks. My left ear is a little frayed around the edges, and I have a unique dark spot in the middle of my back. I am truly one-of-a-kind, you will never find another cat that looks like me! At first I spook a little easily and would like a private place to call my own, but if you have some treats available, I will readily come out to greet you because I have a voracious appetite for anything tasty. I also LOVE getting the top of my head and back of my neck scratched; aside from food that is my most favorite thing in the whole world. I am also a talented cat; my talents include: basking in the sun, youthfully playing with a variety of cat toys, informing you of the time of day (such as breakfast time, lunch time, dinner time and snack time) and last but not least: keeping your lap warm whenever you need to sit down and relax. I am also ok with large dogs, as long as they don't try to rough-house with me and give me a chance to settle in. My ideal home would include a window that lets some sun in to a spot where I can bask, no other cats, and a family that can be mindful of my feeding portions (free-choice feeding will make me overweight and I could develop health problems such as arthritis and feline diabetes). So, do you need a lap-warmer to keep you company this winter and every winter here forth? I am so eager to hear from you, so please apply to take me home!
Please note:
Oscar has tested positive for FIV
Indoor only
Donate
All donations are tax-deductible under section 501(c)(3) of the Internal Revenue Code (EIN 20-1685522), and receipts are available upon request.
Adoption
Events
EVERY SATURDAY AND SUNDAY
FROM 12-4PM
PETCO, SLOAT BLVD
PETCO, POTRERO CENTER