Paul is not ready for adoption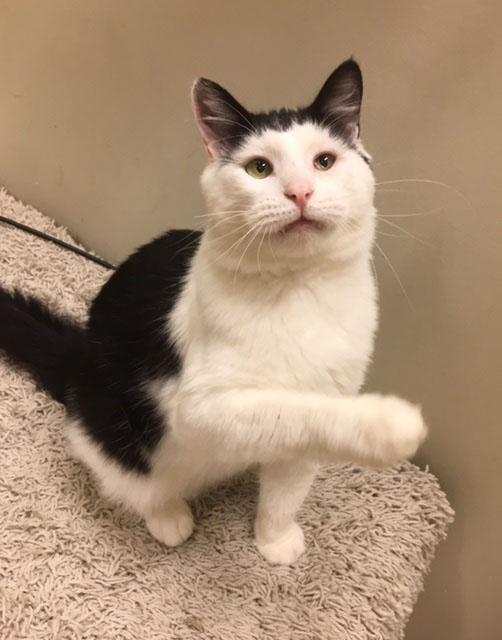 Male
Domestic Medium Hair
Black and White
5 years old
Hi! My name is Paul. I look pretty sad, I know. I came into the shelter in Lodi as a lost kitty. Fortunately, things are looking up for me now though that Give Me Shelter took me in. Now I get a second chance at love. A little more about me from my foster mom...
"He's a very sweet cat. He loves to play with his toys several times a day, and scratch the upright cat scratcher. He has climbed up all the places where he can climb up and sit high in my apartment. He's a big boy with a tiny little chirp of a voice.
He does weave in front of my feet especially when I arrive home. I assume to get some attention and say "hi". I have to navigate around him until he's done saying "hi". I do have to watch out that I don't bump or step on him either when he's weaving around me or when he lays down right behind me when I'm at the kitchen counter.
He does like to lay down near me when I'm home, but he doesn't seem to be a lap cat. He is tempted to think my fingers and toes might be a cat toy, especially when those fingers are holding a cat toy wand. But, when I say "no" and move my fingers and toes away, he doesn't pursue them, tempting as they might be. As I mentioned before, he does kneed my stomach, and then sometimes "love nips" can ensue."
What in the world are you waiting for? Adopt me already!
Donate
All donations are tax-deductible under section 501(c)(3) of the Internal Revenue Code (EIN 20-1685522), and receipts are available upon request.
Adoption
Events
EVERY SATURDAY AND SUNDAY
FROM 12-4PM
PETCO, SLOAT BLVD
PETCO, POTRERO CENTER